Contemporary Paintings
Limited Edition Photographs
by Skydin Zeal

A little known fact that before Skydin Zeal began making jewelery and metaphysical instruments he was a painter, he received a B.F.A. with a concentration on Painting and Drawing. He minored in Information Technology, and it was in college where he unintentionally became the head for what could be called an Art Movement. He combined Technology and the Painting Techniques of the Post Modernist Masters to the Dutch Masters. There was a third element which we will simply call Magic.For more info on his path see Biography.
Animation Below: The Larger Animated Montage at the Bottom of this Page represents the wide range of creative paths inwhich we still have Original and Limited Edition works in.
Magic Paintings: He has also began what we call Magic Paintings, which are Paintings that powerfully metaphysically act on your space itself, the stories, synchronicities, and "random" occurances that surround these paintings are absolutely indesputebly enchanting! For more Information on this see Compendium Synchronisity.
The painting shown here absorbed a great deal of chaos during the 11/11/11 transition, it protected Skydin and the magical practitioners who took part in the 11/4/11 Sky Magic Gathering, it was also intrinsically linked to the Snow Fall of 10/30/11. Skydin's degree of Spiritual Power is such that whenever he works in this way, mysteriously powerful and protective events surround his artwork. He possesses several Ancient Magical Modalities and has worked extensively since childhood in unearthing and refining them into what they are today.
Skydin Zeal Alchemically works with Metals, Propriety blends of Protective Herbs, Frankincense, 24k Gold Leaf, Blessed & Salt Moldavite/Meteorite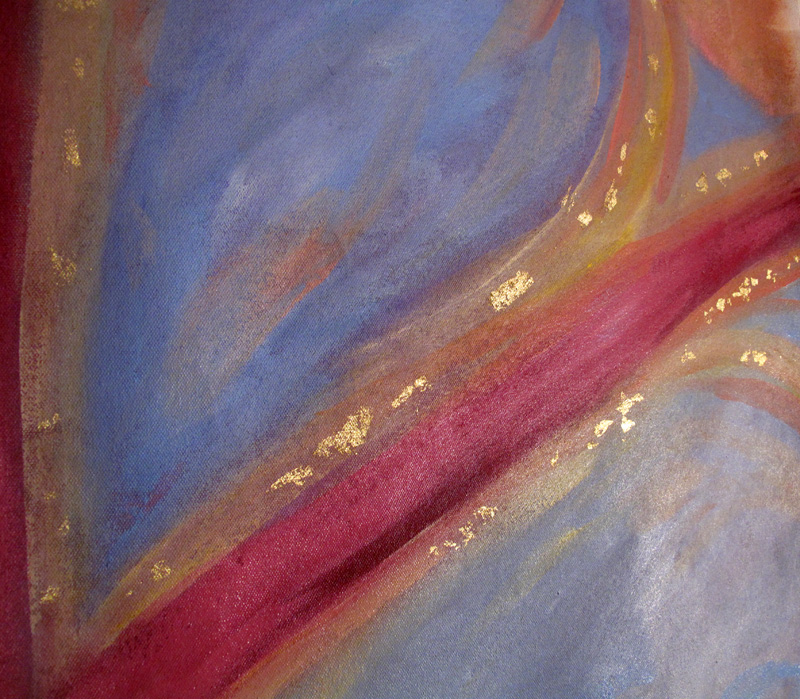 Detail of Rainbow Bridge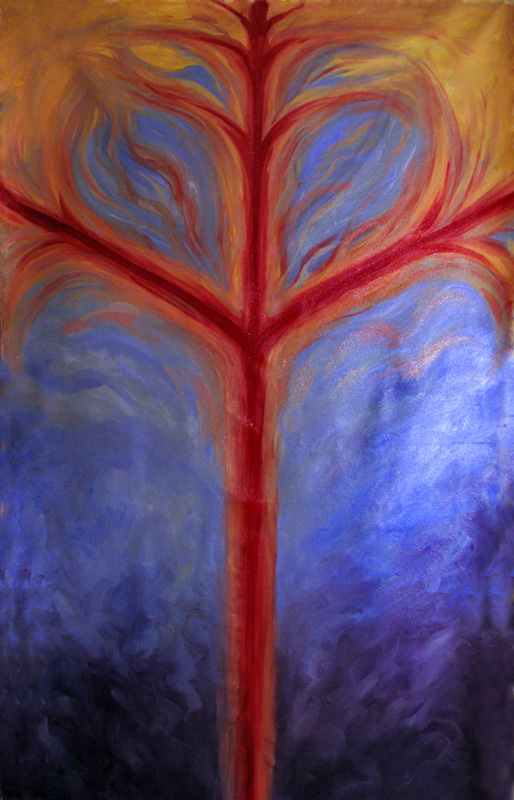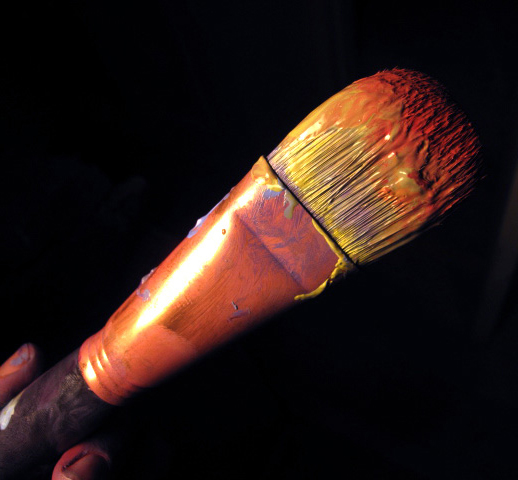 Magic Oil Paintings
In Creating these new Paintings, Skydin Zeal works very large, this Runic Painting is 7 feet by 4 feet and is painted following ritualistic and intuitive instruction from Skydin's Spirit Guides, Soul Group and affliation with the a Collective, a Federation of Galactic Light Beings. This painting represents the Bifrost Bridge or Rainbow Bridge, the Algiz Rune. It is the structure that supports human existence and protects humanity from the ravages of chaos that exist outside. For more meaning on this rune see the Glossary.
Painting with Gems: This painting, like all of Skydin Zeal's pantings, is made from Pure Mineral Pigments which derrive their color from beautiful gemstones. The red color here is a combination of Rhodonite and Cadmium. The blue hues are created from actual Turquoise and Lapis Lazuli. Skydin Zeal is very well versed in the Crystal Kingdom and knows the metaphysical properties, both intellectual and intuitive of every gemstone he works with. While more costly to work this way the process and product is deeply enriched, and will last as long as the Earth itself! In Addition to the Crystal Pigments mentioned above Skydin Also worked with a base layer of various inks such as Dragon's Blood, which is an Ancient Blood-Red hue created from the Resin of an Island Tree "Dracaena."
The painting shown here Skydin Zeal works strictly in the three Primary Colors and derrives all other needed colors from there: Red, Yellow and Blue. He does this because his emotion dictates him to do so, but we belive it is because he's working with light and that translates perfectly from source through his hand, paintbrush and primary colors of which the light is made from.
Archival: Skydin Zeal has much Archival knowledge and draws heavily from it to ensure his paintings last till the end of time. He implements 100% natuarl bees wax, a process used by the Ancient Egyptians for both the eternal life of their Queens, Kings and Artworks.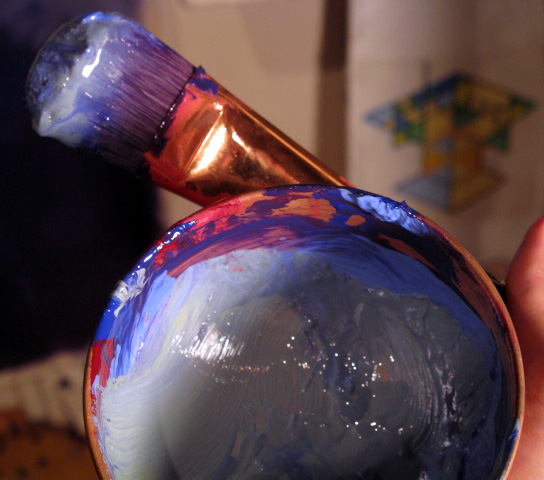 Sun & Snow, Fire and Wind